7 TIPS FOR RUNNING IN THE HEAT
So we got a preview of what the Summer will bring this past week and I thought before we get blasted again with another heat wave I'd share seven tips for running in the heat. So here we go we'll start with the most important.
DON'T RUN...OUTSIDE.
Sometimes its not worth it. I know thats bad coming from a dude who works at a Running Store, the last thing I should tell folks is not to run! But like I said if the weatherman tells you there is an Ozone Alert and not to exert yourself do not do it. If you can find yourself a treadmill get on the puppy but if not, take a bagel. It ain't worth it.
"The Department of Health warns that unhealthy levels of ozone can cause throat irritation, coughing, chest pain, shortness of breath, increased susceptibility to respiratory infection and and aggravation of asthma and other respiratory ailments. These symptoms are worsened by exercise and heavy activity." - RIDEM
DRESS FOR SUCCESS.
In the winter dressing in layers is key. In the summer the less layers the better! We tell folks to steer clear of Cotton when running in the heat and with good reason. Cotton is a material that holds on to moisture, think about when you get out of the shower you dry off with a cotton towel. We want to get that moisture away from us, Polyester moves that moisture quickly across the garment so you stay dry.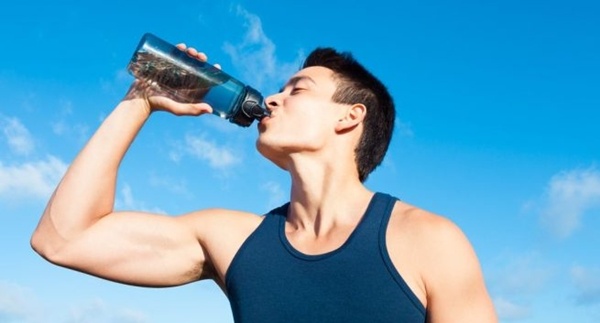 HYDRATE.
Drinking water before your run is vitally important when the temps start rising a good rule of thumb is to drink around 16ozs of water before you head out for your run then take in between 5 and 10ozs every 20 minutes during the run. For those of us who are heading out for a run longer than 30 minutes be sure to knock back an electrolyte replacement drink like a Gatorade, Vitalyte or Nuun during and after your run. These drinks typically have carbohydrates as well as electrolytes so they can help replace some of the things you'll lose in your sweat. Drink early and often.
LISTEN TO YOUR BODY
You can usually tell when something doesn't feel right. Whether you're new at this or an old pro chances are you'll be able to tell when you don't feel right. Below are a few things to look out for when you're out for a run on a hot day.
Headache
Dizziness
Light-Headedness
Muscle Weakness
Nausea
If you start to feel any of those symptoms shut it down and heat for the AC. It also may be wise to run by feel vs your traditional pacing. Your run may be a little slower but you'll be thankful in the end.
PICK YOUR ROUTE WISELY
If its going to be 98 degrees in Providence and 80 in Narragansett maybe you hop on the bus or get in the car and take a drive down to South County for your run. The state isn't really that big and you'd probably enjoy your run much more. If thats not in the cards, try to find yourself a nice shady or cooler route in the city or on some trails. Blackstone BLVD is a good spot for some shade here in Providence, or if you need something a little longer a run along the East Bay Bike Path may get you some cool ocean breezes.
RUN WITH SOMEONE
Running with a buddy is a great way to stay safe. It helps to have someone around to either call for help if needed or reel you in if you're getting carried away on a hot day. Having someone there to maybe adjust the distance or pace of the run can be helpful. Even just having someone to talk to about how you're feeling can be beneficial when you're out of sorts. Plus isn't running with people just more fun!
TIMING IS EVERYTHING
Pick the coolest times of the day to go for a run. Maybe you wake up a little early during the hottest days and get out there at 5am or you wait till 8pm to get out in the evening. You may need to do some finagling of your schedule but if you want to get your run in avoid the afternoon. The morning is best because Ozone levels tend to be there lowest at that time of day.
Well I hope that helps! If you have any questions or suggestions do not hesitate to comment below, send me an email or chat with me at the next group run!
See you on the Rhode!
Eric Lonergan